REVIEW | I remembered Jason's Lyric as a heart-wrenching love story with a man split between what he wanted for himself and the responsibility he felt for his family. Perhaps it was nostalgia, but the actual film doesn't live up to the memory and I would hesitate to give it another watch if it appeared in theaters today. The film featured some of the biggest Black names in cinema, even by today's standards, but my overall takeaway from the movie can be summed up into one word: underwhelming.
The backstory involves Jason's father Maddog (Forest Whitaker) an army veteran who came home from war forever scarred by his experiences. He was eventually killed while Jason and his brother Joshua (Bokeem Woodbine) were still young in a, seemingly, forced twist that was revealed in the final scenes of the movie. This combination of events changes the lives of his family and leaves Jason feeling permanently indebted to his mother and younger brother.
Jason (Allen Payne) is working towards bettering his life while trying to look after Joshua, who has been in and out of prison multiple times, and coping with his traumatic childhood. Unexpectedly, Jason finds the love of his life when Lyric (Jada Pinkett-Smith) walks into the store where he works as a television salesman. Surprisingly they had never met before even though both families live in the same city and Lyric worked at a local restaurant.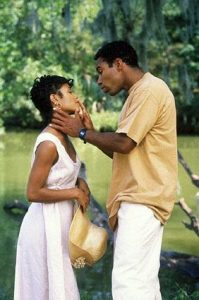 The couple eventually make plans to leave their troubled lives behind them, but a failed bank robbery attempt by Joshua and Lyric's brother, Alonzo (Anthony "Treach" Criss), leads to a showdown with Jason aiming a pistol at Joshua while Joshua aims another at Lyric.
Despite compelling performances from Suzanne Douglass (the brothers' mother, Gloria) and Forest Whittaker, and a couple of other standout scenes, the movie as a whole didn't equal up to the sum of its parts.
Jason's Lyric (September 28, 1994)
Director: Doug McHenry
Find Me:
Twitter: @Call_me_Cudi
Instagram: @Call_me_Cudi
Leave a comment