REVIEW | Boyz n the Hood provided a snapshot into the realities of many Black neighborhoods in the United States during the 1990s. The depictions of gang culture, drug abuse, police misconduct, and violence were snapshots of the political and social struggles of that era. John Singleton humanized the murder rate statistics we saw on newspaper headlines and gave a face and story to the "gang bangers" people were so afraid of.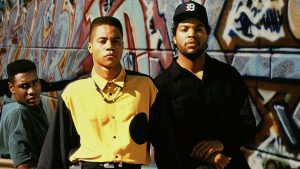 By offering the public a glimpse into the lives of Trey (Cuba Gooding, Jr.), Ricky (Morris Chestnut), and Doughboy (Ice Cube) we were able to empathize with the plight of these individuals. We could argue over whether we would or wouldn't make the same choices they made, but we realized that the ideas of right and wrong were often, if not always, more nuanced than they appeared. We understood that Trey, the scholar, Ricky, the athlete, and Doughboy, the thug, weren't complete representations of these characters. Their experiences had shaped who they were and each of them carried trace amounts of the attributes that more directly defined the others.
The film's content, while heavy in nature, was countered by the story of teenage love, friendship and a powerful black male role model in Furious Styles (Laurence Fishburne) who played a father figure role for not on only his son but for the young men in the community at large. In the end, the film successfully transforms what on the surface appears to be a story about life in the "hood", into a depiction of the challenges facing Black youth in poor urban communities across the U.S. It's definitely a 90's Classic.
Boyz n the Hood (July 2, 1991):
Director: John Singleton
Notable Awards: NAACP Image Award: Outstanding Motion Picture, MTV Movie Award: Best New Filmmaker
FIND ME:
TWITTER: @Call_me_Cudi
INSTAGRAM: @Call_me_Cudi
Leave a comment